move better. feel better
Physiotherapy amsterdam west
AMSTERDAM-WEST / 0207370384
Experience Physiotherapy 2.0
Starting at the induction we do things differently, more thoroughly. We'll spend an hour with you. And after the induction you'll receive a report with findings and a step-by-step plan. That way we make sure that you'll make progress from the outset.
check if you are
INSURED?
Check out our handy overview to see if your costs are covered or to determine which health insurance plan is best for you.
7 days a week
ALSO AVAILABLE IN THE EVENING
THE BEST PHYSIO IN AMSTERDAM (WEST).
Wijs Physio is an ultramodern physiotherapy practice in Amsterdam (West). At your service is a young and passionate team with a full variety of specialisations that works together holistically and listens to your story. Wijs Physio combines well-equipped treatment rooms with a fully-fledged, high-end Gym. So, we have everything we need to plan the perfect procedure for you. From rehabilitation to performance improvement. For daily life and for top level sports.
Posture Correction
First, we map your body from head to toe, based on our unique body scan. We then look at how you … could adapt your posture through small adjustments, both standing and sitting, so your muscles can function optimally. This means that both your mobility and your stability are addressed.
Guided by these points it becomes clear how the body is oriented as projected by its posture, and where great gains can be made to achieve better overall function.
At Wijs we always look at the whole body to remedy the cause of the complaint.
Sport massage
Massage is used by the physiotherapist on muscles that are too tense to perform their function properly. Think of neck muscles that … are so stiff that you can no longer look behind you. The tension in the muscles can arise due to, for example, an imbalance in the load and the load capacity of the muscle. Massage is then used to reduce the load which, can be applied very locally or to a larger area. Massage stimulates the blood flow in a certain area, so that a muscle can relax better and can then often be strengthened by means of exercise therapy. The physios of Wijs use this technique as a support to providing an appropriate treatment plan.
dry needling
Dry needling is a form of treatment used for injuries. Dry needling is often used on muscles that … have been causing problems for a long time, or are difficult to reach by massage alone. The treatment looks for trigger points (also called knots) in the muscle causing pain. An acupuncture needle is inserted into the muscle so that it relaxes. As an example, dry needling can be used around a painful joint to increase mobility. Some of our physios at Wijs are specialists in the application of dry-needling and this knowledge is kept up to date by, among other things, regular visits to the cutting room of the VU, so that every muscle can be found in detail.
rehabilitation
The rehabilitation process can be a long and difficult road, and often results don't happen overnight. At Wijs we understand this … and we will try to support you in whatever way possible. Wijs is not a run-of-the-mill rehabilitation centre and we'll make sure that you're not simply viewed as a patient. We want you to move and perform as well as you possibly can, in an invigorating and inviting space where you can build things up in a safe but also a challenging way. We're here to support you on your journey.
Exercise therapy
Exercise therapy is one of the most important aspects of rehabilitation. Ultimately it is about … finding a balance between the load and the resilience of the body. By performing exercises, you work on increasing the load-bearing capacity, which reduces the chance that complaints will recur. Exercise therapy is often neglected, but the performance of these exercises is crucial to tighten specific muscles and especially not to tighten other muscles. At Wijs we have a spacious exercise room, and all physios follow workshops every other week to continue their own skill development.
check-up
At Wijs we firmly believe that prevention is better than cure, so you can always contact us with questions and advice about your posture and / or sport. …We believe that good preparation is essential when starting sports and that with the right advice you should be able to work all day without complaints. Finding normal pain complaints when, for example, getting up from your chair after a long working day is not an option for Wijs.
prices
See below which insurers WIJS Fysio has contracts with. With a supplementary package you will receive up to 75% of the basic rate of physiotherapy. If you are not insured for physiotherapy, nothing will change.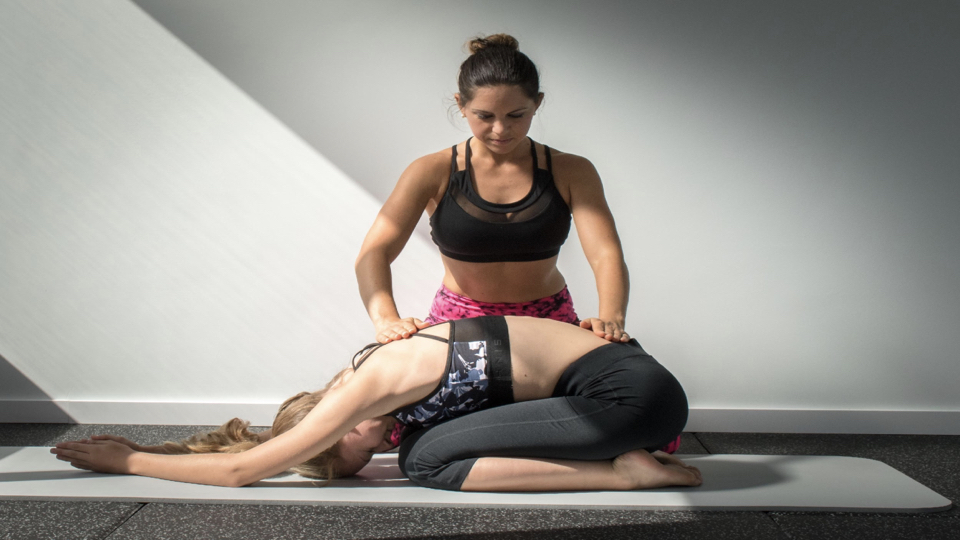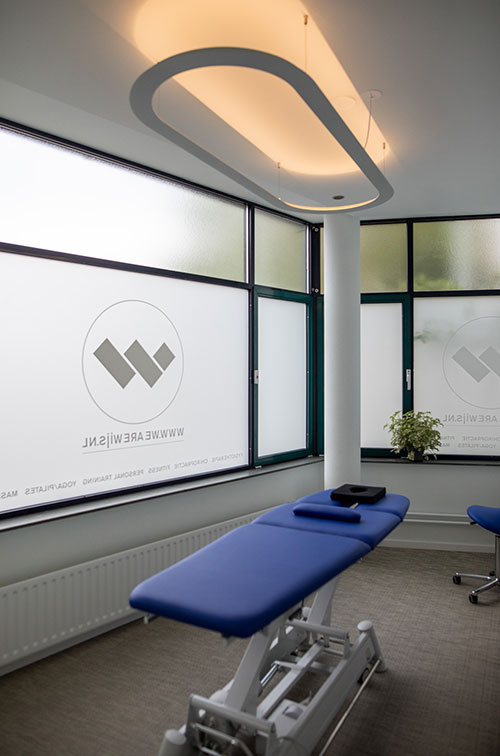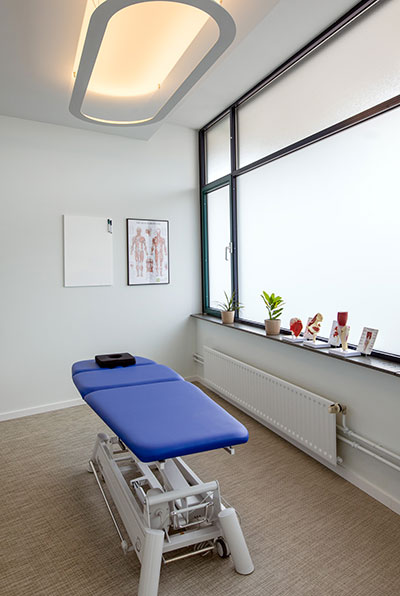 you can always postpone later
"Great place for physiotherapy! Very modern, clean, has big gym inside! Physio trainers are super talented and know what to do, no nonsense!
Highly recommend this place!"
"My back had been suffering for years and never had any proper help, until I came to Wijs. Training is now pain-free and I can race again!"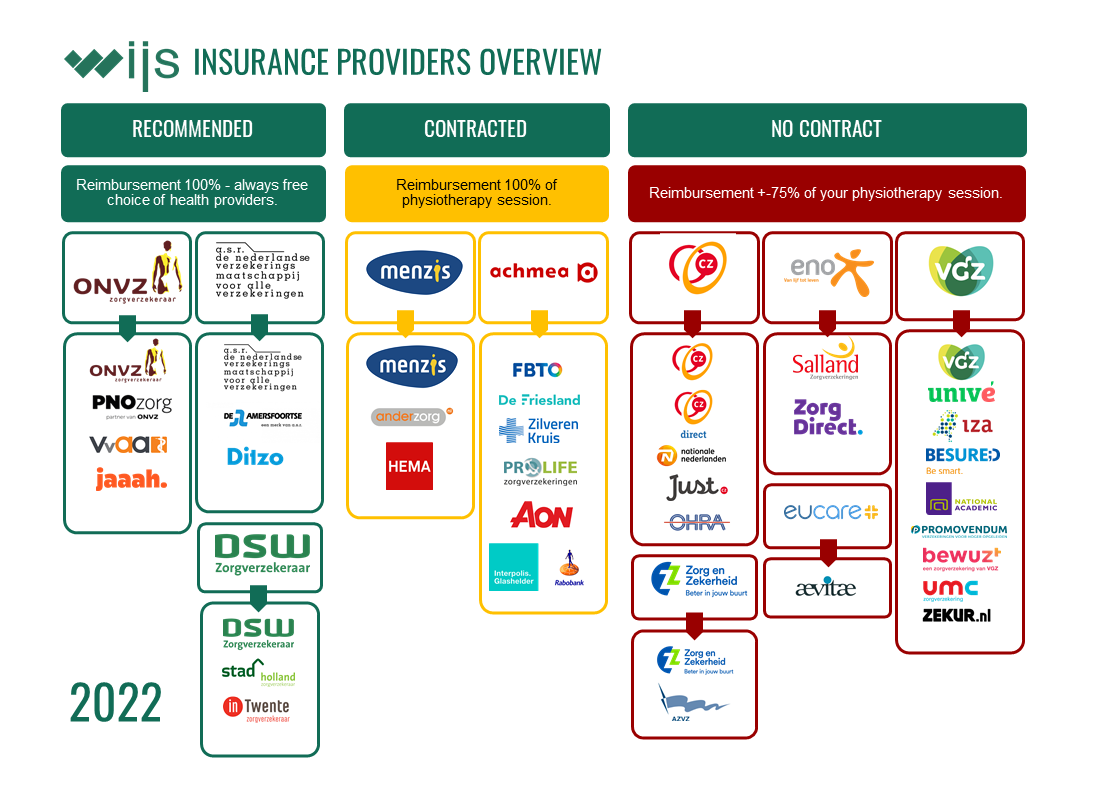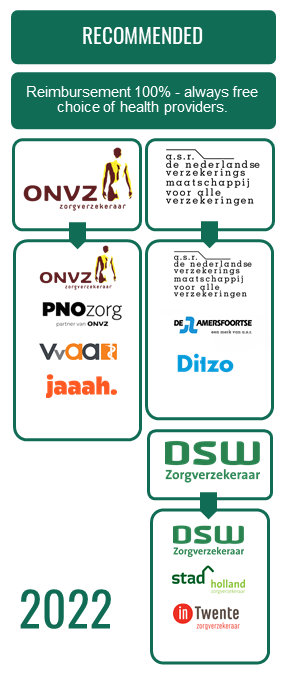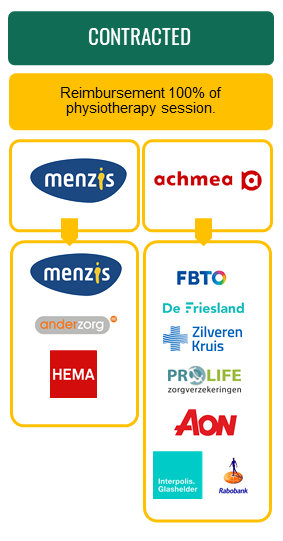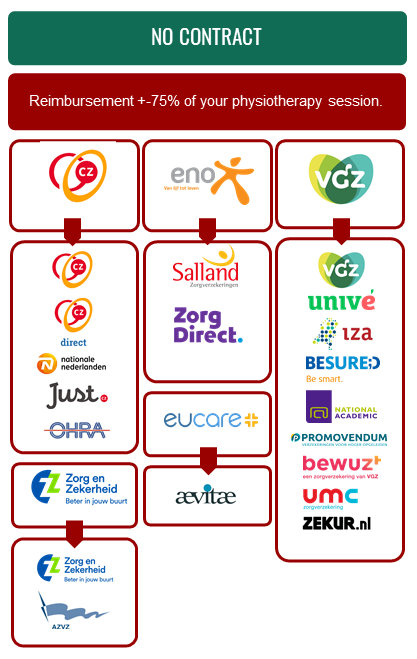 move better. feel better.
wijs fysio
Opening hours
Monday – Friday: 7 – 22
Saturday & sunday : 8 – 16
To measure is to know. With insight into your results, we can help you become better at the sport you practice and fitter and injury-free.