MAXIMUM 2 PEOPLE, TOTAL ATTENTION
pilates
THIS CLASS IS A COMBINATION OF RESTORATIVE PILATES, YIN YOGA AND MEDITATION. IN A HAMMOCK. A PERFECT BREAK IN YOUR BUSY DAY.
Personal or duo pilates
A personal training session based on pilates Or bring a friend and share the fun and expense. Your trainer is a pilates teacher and a physiotherapist.
* Create a LOGIN at checkout. You can then book your first session (s) right away. You can then book your first session (s) right away.
TRY YOUR FIRST LESSON FOR FREE
This is a temporary offer, only valid for people who have never been a member of Wijs Gym before.
pilates pass
This class is the perfect break from your busy day! Mindful & Mobility invites you to relax and get into balance through a combination of Restorative Pilates, Yin Yoga and Meditation. This slow and grounded class consists of joint mobilization, light stretches and breathing exercises. The result is better grounding, deep body awareness and optimal joint and fascial relaxation. Suitable for all levels.
"I've noticed that I perform better, thanks to these calm lessons."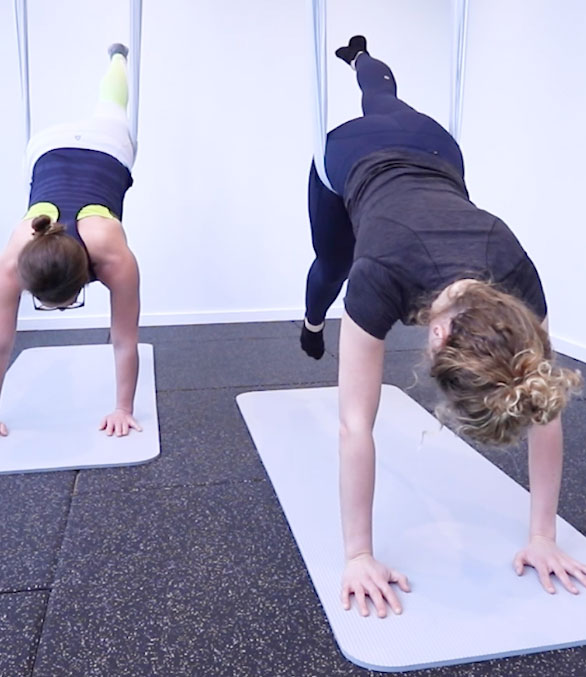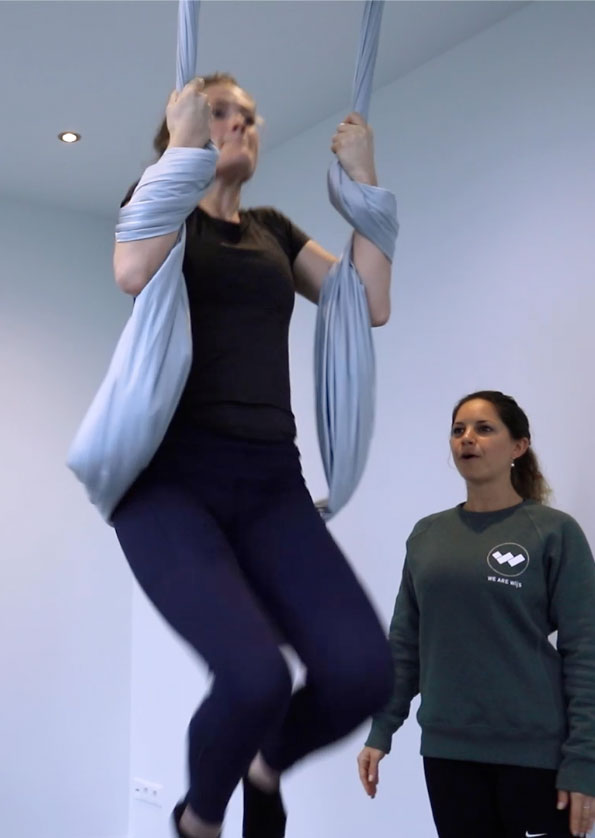 you can always postpone later
"There were two of us in the class, so we got a lot of personal attention. It's only half an hour session, but you come out sweating. The teacher clearly has a lot of knowledge of technique and paid close attention to it, really great! "
"Very small group so lots of personal attention! I will definitely come again! "
"A clean, fresh and bright modern space. The teacher was so friendly and helpful. I felt safe and motivated. I will definitely go back "
CAN I ALSO COME WITH A FRIEND?
You can always book a joint Pilates session. Our Pilates instructor will then put together a suitable programme for you, one that both develops your posture and gives you a workout.
IF I WANT A PRIVATE OR A DUO LESSON, AM I TIED TO A FIXED TIME SLOT EVERY WEEK? (
As soon as you choose your private or duo training session, your trainer will assign you a fixed slot. We do this to reduce the risk of training sessions getting undermined by the bustle of daily life. Obviously, our trainers are super flexible, and you can always switch your training session time if necessary.
I have been injured for a while now - can I start playing sports?
The Pilates class is always taught by a physiotherapist and is an excellent sport for working on and improving posture. The advantage of Pilates at WIJS is that you get started in a pleasant, enclosed space where you have the full attention of the trainer to help you with any injuries.
WHAT IS THE ADVANTAGE OF A PRIVATE LESSON OVER A GROUP SESSION?
The main advantage and difference between the two is the amount of personalised help you can get in a one-to-one lesson, with an emphasis on getting you to perform at your best and reach your personal goals. These classes are fully tailored to your specific needs and all of the exercises are designed to get the most out of you. After all, you are getting our 100% attention, all for you.
dé gym door fysiotherapeuten
wijs gym
WOULD YOU LIKE TO KNOW MORE ABOUT OUR FUTURE BOOT CAMPS, WORKSHOPS AND FITNESS CHALLENGES?
Opening hours
Monday – Friday: 7 – 22
Saturday : 8 – 16
EXTRA DISCOUNT on
ANNUAL SUBSCRIPTIONS
10% OFF
Get an amazing extra 10% discount on your Gym Subscription with Small Group Sessions and Personal Training.